Hi guys,
I have a ton of stuff im getting rid of over the next few weeks once i finish up getting it all ready to sell.
I will eventually be selling off a whole car but i just have to finish getting out the bits i need.
For now i have a complete working N/A RB30 Auto Box with all the accessories attached to it, the tailshaft, and whats left of the crossmember (1 of the rubber mounts is broken, rest is fine).
It has all the necessary bits like the torque converter, flex plate, all the bolts to suit, sandwich plate, etc.
Pictures: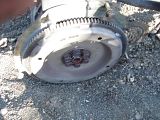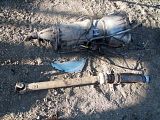 The flex plate is still on the engine but will remove if someone wants it.
The console surround peice is there along with the shifter, floor plate, etc etc.
Tailshaft as far as i can tell is in great condition, and all the parts are there to reinstall the yoke that has been pulled off to stop crap getting into the box.
Reason for sale is that the engine is dead so i just got the car for parts and this isn't needed, the car was driven to my place, so it works, and was full of oil prior to being removed and having most of it spill out

Would like $200 ONO for the box and parts.
Also have for sale now is speedo drive and cable - $10
Exec Dash Cluster with Clock (forgot how many K's exactly, but its 200+ i think, nothing special) - $20
Also have a Rhino GT alarm system with central locking, its still installed in the car, so if someone cares to remove whats left of the interior wiring loom that its attached to they can take it.
I have the keyless entry remote for it but dont have the manual over-ride key for the module which would have to be bought seperately.
It has sensors in the doors, and bonnet, i never tested the system but the mate that i bought it off said it locked as it should, i have the manual for it also - $50.
Also have some Calais 16" wheels with near new (nothing wrong with them) tires, the center caps could use a polish, no gutter rash on them, great genuine wheels - would like $400 but open to offers ofcourse.
Cant see them all too well but here's a shot showing the calais wheels:
If you are interested just send a PM my way

Loads more parts to follow..
Will consider swapping any of the above for decent audio gear, RB30 performance parts, etc..
Also need a legal cat to get this thing of mine on the road again.
I am looking for a disc brake diff for a wagon and an LSD center aswell.