Welcome to the first newsletter of 2010!
Well for the last few months it has all been about the upcoming VL Nationals at Heathcote Raceway. If you have been living under a rock for the last month or so make sure you check out all the latest info and get your tickets at
www.vlturbonationals.com.au
and support the event. More on the nationals later in the newsletter.
Calaisturbo.com.au Forum Upgrade
In the next few days you might notice some slight changes to the forum as we upgrade to the latest stable version of VBulletin. If you experience any trouble during the upgrades please read this thread and use the link to report any problems:
http://calaisturbo.com.au/showthread.php?t=190412
New Members December-January
A welcome to all the new Gold & Official members listed below. If you want to apply for access to the members area, check out the membership thread here:
http://www.calaisturbo.com.au/showthread.php?t=22249
Gold
grunter01
GMH-DVL
vlturbo33
Agentcrm
Vilo3t
Normal
vlturbo33
00VRO
Upcoming Events
VIC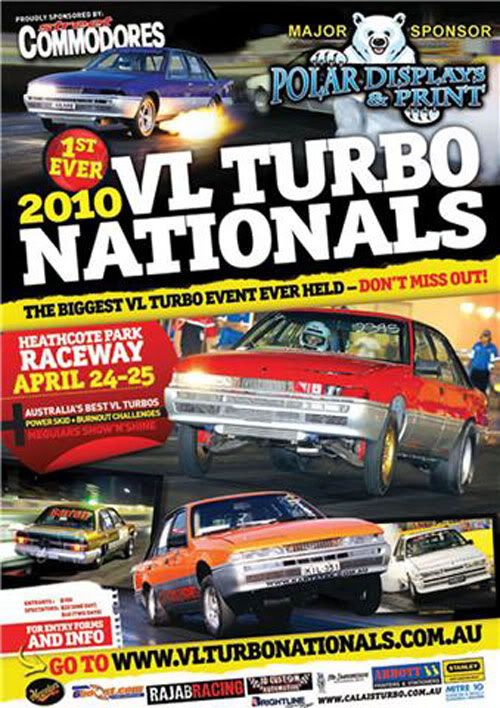 2010 VL Nationals
As mentioned earlier the 1st ever VL Nationals is on at Heathcote Raceway April 24 & 25. This is going to be the biggest ever dedicated VL event so make sure you get down to the track and give it your support. Tickets start at $22 and more info can be found at
www.vlturbonationals.com.au
or in the CT thread:
http://www.calaisturbo.com.au/showthread.php?t=189649
WA
Planning is underway for the annual BBQ Cruise on Sunday May 2nd. This is by far the biggest WA cruise of the year and a great opportunity to put faces to names. More info will be posted in the thread shortly regarding destination and meet points. For more info check out the thread:
http://www.calaisturbo.com.au/showthread.php?t=187490
STATS
December
Bandwidth 268.65
Posts 22,803
Threads 2,370
New Regs 326
January
Bandwidth 275.83 GB
Posts 24,033
Threads 2,674
New Regs 509
Advertisers
Below is the list of current CalaisTurbo.com.au sponsors. Support the guys who support our community!
*New*
Rever's Custom Box Services
6BOOST -
www.6Boost.com
- Custom Turbo Exhaust Manifolds and Parts - 6BOOST Section Click
Here
sir5.7 -
www.TuffCarParts.com
- Auto Parts Seller - TuffCarParts Section
Here
HyperGear - TurboChargers Turbo Hiflow and Repairs - HyperGears Section can be found
Here
ISL33P - CPC - CPC custom plenums
jdcustom - JD CUSTOMS - Custom Plenums
TGV -
www.TheGameVine.com
- Gaming Website
Express_Parts - Express Parts - Master Power Turbos
Mr Parts - Mr Parts.com.au - Automotive Workshop and Parts Supplier
sticks - EFI-BITS - EFI-BITS
STOWLN - 12Volt Customs / Spot On Auto Electrical - Auto Elec.
ModYourCar.com
-
Cheers,
Oliver.